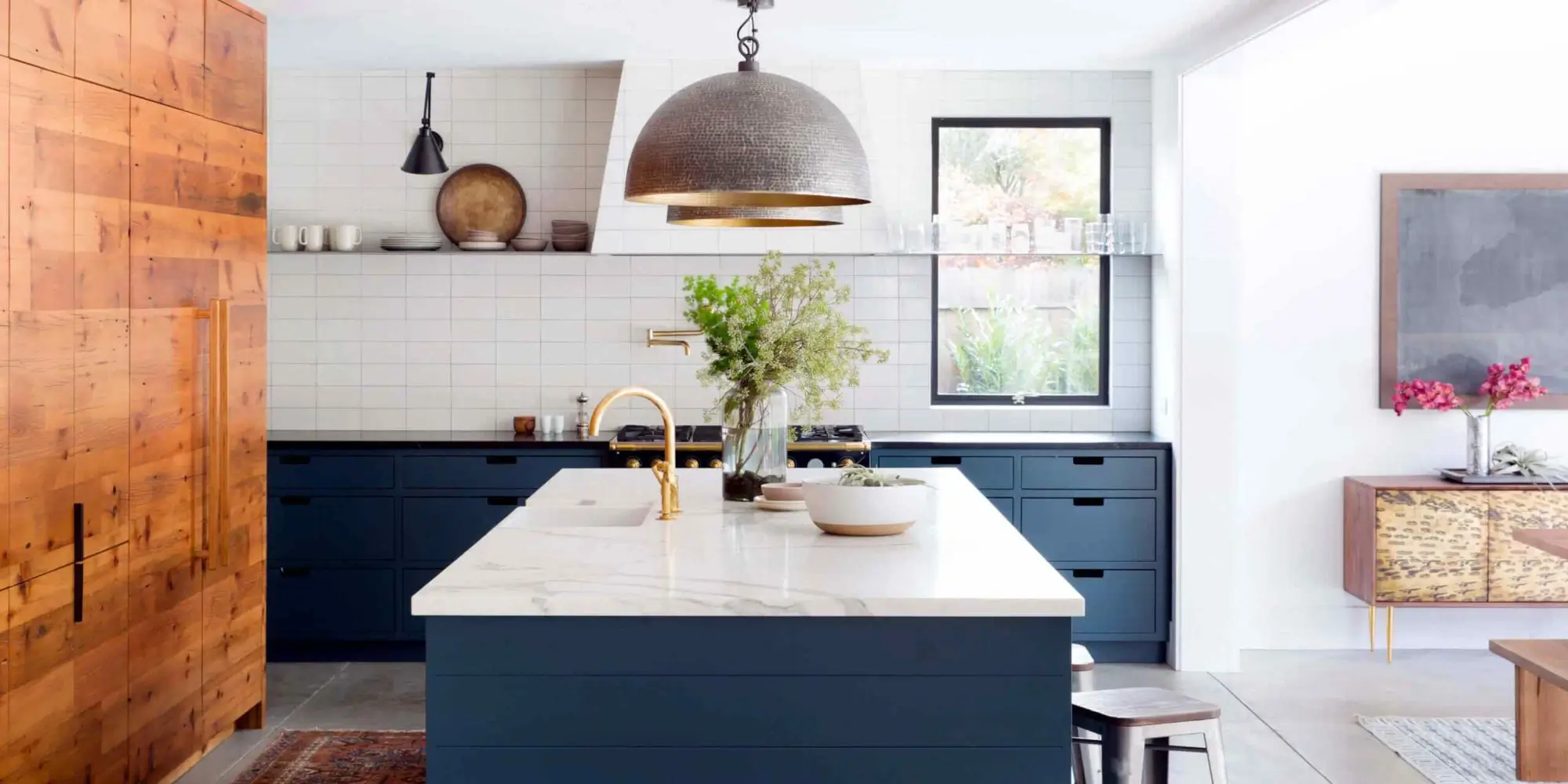 The Best Selection of Countertops in Orlando & Central Florida
Though we offer all types of countertops for residential and commercial applications, we primarily recommend Silestone countertops for kitchens and other interiors. Through superior strength, incredible beauty, Silestone is the best choice for discerning consumers. A natural stone surface made of quartz, the 4th hardest mineral in nature, Silestone countertops continue to be cutting-edge year after year. Select quartz is ground up, engineered with additional colors and materials, then molded with immense pressure to create surfaces that have a consistent look, feel, and quality.
The Silestone Quartz material has revolutionized stone surfaces with a manufacturing process that delivers products with true consistency and high quality. With an evolving color palette, Silestone surfaces can adapt to changing needs and lifestyles that keep up with the most current trends. Fantastic color options and various Silestone Slab Sizes combined with numerous textures and finishes offer a design flexibility that ranges from a single-color process for a consistent look to a 5-dimensional process that adds depth and creates light refraction for an amazing rich color for your Silestone Kitchen Countertops.
Silestone Countertop Options
MOST POPULAR SILESTONE RIGHT NOW
Countertop Colors Available in Orlando, FL
Silestone countertop colors options offer an incredible number of combinations and consistency. Find the Silestone colors you need, and then design Silestone countertops online to preview your Silestone colors for your home.
There are so many ways to combine Silestone colors to create a new world of artistic and functional possibilities.
Cost / Price of Countertops in Orlando
What makes one countertop more expensive than another? The production cost and the manufacturer's ability to obtain the desired color from raw materials. A good indicator is granulometry. The more discreet the grain (more uniform and smooth), the more resin content it contains and, therefore, the more expensive it is to produce.
Slabs for Countertops
There are 2 size options for Silestone Slabs:
Standard is 55 inches by 120 inches
Jumbo Slab is 63 inches by 128 inches
There are 3 thickness options for Silestone Quartz Slabs:
1.2 cm | 2.0 cm | 3.0 cm
The thicker the material you select, the more resistant it is to flexion and impacts.
Orlando Countertops Edge Options
Bullnose
A completely rounded finish that maintains the surface's thickness throughout your Silestone quartz kitchen countertop.
Basic Eased
This edge type appears square with a slightly eased top edge while maintaining the countertop's thickness.
Straight Beveled
Similar to the basic ease, this edge maintains the surface thickness and appears square with a slanted top edge.
Demi-Bullnose
An edge that is rounded along the top and flattens at the bottom for a straight edge while maintaining a consistent thickness. Also know as half-bullnose.
Ogee
This more traditional style of edge features a concave arch that transitions into a convex arch for your kitchen quartz countertop.
Mitered
Similar to the basic ease, this edge maintains the surface thickness and appears square with a slanted top edge.
Updates From Orlando Countertops
Advantages of Silestone Countertops & Surfaces
Ultimate Reliability
Silestone quartz countertops have an unparalleled durability and strength because it is made of Natural Quartz – the 4th hardest mineral found in nature. The only natural minerals harder than quartz are diamond, sapphire and topaz. Silestone countertops are made of a hard, dense and non-porous material that is consistent throughout its composition, making it more reliable than any other natural stone.
Antimicrobial Protection
Silestone is National Sanitation Foundation (NSF) approved and GREENGUARD-certified to be safe for the kitchen indoor environment, which makes it a cleaner and safer than other surfaces. Silestone countertops are the only surfaces made with built-in antimicrobial protection that safely fights the growth of microbes such as odor causing bacteria, mold, and mildew for the life of the product. This makes Silestone countertops and surfaces easier to clean, and they stay cleaner between cleanings.
Scratch Resistant
Common household accidents such as a dropped knife, a fallen piece of glass or errant scissors will not scratch Silestone because only materials as hard as, or harder than Silestone will scratch it. Beware: no surface is indestructible.
Stain Resistant
Because Silestone is non-porous, most spills stay on the surface and are easy to clean with soapy water or a mild household cleaners.
Heat & Scorch Resistant
Silestone Countertops and surfaces will withstand limited exposure to heat without burning or scorching. The fire of a lit match will not mar the Silestone countertop. However, as advised by crock-pot and electric skillet manufacturers, do not place these items directly on any countertop. We recommend the use of trivets when placing hot items on a Silestone surface to avoid thermal shock.
Low Maintenance
A huge advantage with Silestone is that it is easy to keep clean and maintain. It cleans with soap and water and in most cases it just needs to be wiped over with a dry cloth to remove the dirt. It never needs sealers.
The Silestone Warranty
Silestone offers a 25-Year transferable warranty on any Silestone product purchased and registered on or after January 1, 2015. To activate the warranty, purchasers must provide proof of purchase, and the warranty is valid after online registration within 6 months of purchase. After 6 months, any unregistered product will automatically have only a two year warranty, with original invoice.
Color and Depth
Silestone colors vary from subtle neutral shades to brilliant and dynamic tones. A huge selection of colors, numerous textures, and two exceptional finishes provides designers with a near-limitless number of artistic and functional possibilities.